I wanted to print some drone shots of just for the sake of it, physical copies are cool i think anyway. Its 10:10am on a Thursday when I strut into my local Officeworks, there is line for the registers but most of the photo machines are free.
I sit down at a photo selection machine and the get the option "self serve printing or pickup later" self-serve was my choice, I insert my SD card, enter into the folder in which I created when I touched up the raw images in Adobe Lightroom and select all the 46 photos to be printed.
You get an option to pay via card at the booth or go to the registers, I choose card and did a paywave. Moments later I had my receipt and went over to the self-serve printing station. There was a lady already using it so I stood some meters back and of to the side as to give my intentions I was up next to use this modern-day marvel.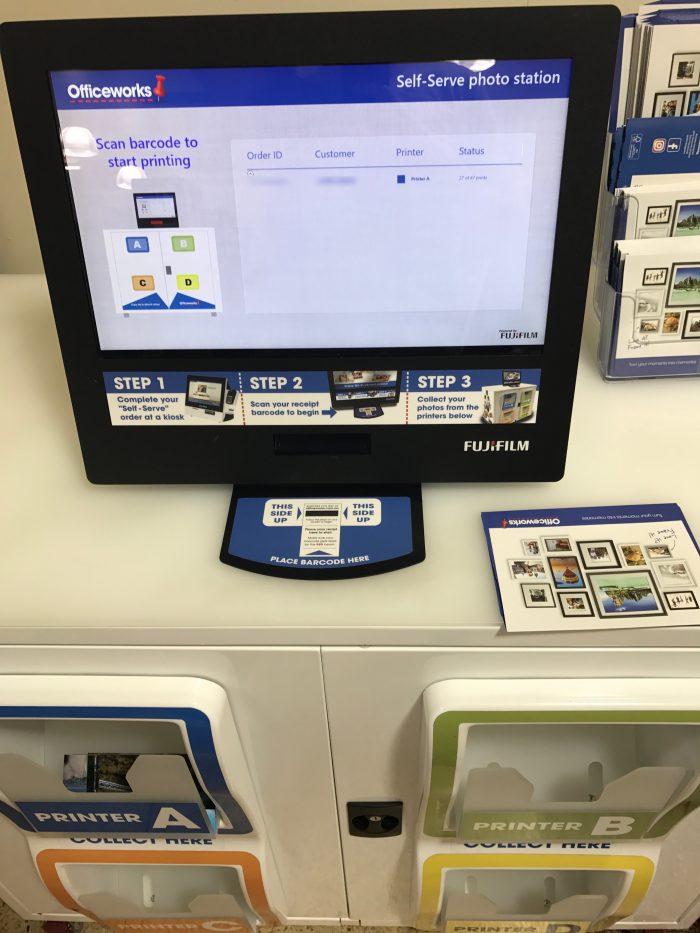 A minute or two later another lady came over and joined this queue I had just created, the next 10 minutes was not enjoyable. The machine as I would expect prints the pictures not at a rapid pace so if you have large amounts it takes time. So here I was standing around for 10 minutes avoiding eye contact and trying to not make it seem I was snooping those on the photo booths, I also thought if I should ask the lady behind me how many she had to print as I had a large amount.
So simple to use
Finally it was my turn with the machine I scanned my receipt, my name came up on the machine with how many prints I had and away it went. I would guess at a speed of an image every 10-15 seconds. A decent line had now formed with 4 people waiting to use the self server photo printer, at about 30 out of 46 prints done an employee came over and explained "you can have 3 print jobs running at the same time". OH MY! wish I knew that 20 minutes ago!
You can have 3 print jobs running at the same time
So the lady who was next scanned on and she had 2 prints! Great now I wish I had asked how many she had and let her go first….. the next few ladies in line scanned onto the machine in which it can do 3 jobs at a time then it queues them. So from being bored and annoyed at the wait to having a big "wow ok" moment, the self server photo printer was looking ok after all.
As from my image above slots A, B and C can be used for regular or common printing whilst D is for larger print sizes. The screen tells you which "slot" your prints are in.
43 from 46 of my photos done and just moments after as I was wondering when this machine was last filled with ink a warning came up saying it need an ink replacement, "uh oh" I said as I looked at the others around the machine.
The next moments consisted of me looking around trying to get an assistant over to pop in some more ink whilst hoping my prints would finish and I could slip away. Well the machine kept rolling, my prints finished I grabbed them out of the outlet nook put them in the paper envelope and slipped away just as an attendant was coming over to replace ink.
Sheesh what an event, I look at my phone as I stroll out of the store, its 11:15am and today I learnt something. The Officeworks self-serve photo printing machine is an excellent idea, its handy and saves you talking to people (Important right?!). I think better signage to show that multiple customers can scan on whilst the printer is going is needed plus having the customers name on the screen for all to see can be an issue for some (hint: use a fakeish name when at the booth).
All in all had I known about the allowance to scan on whilst printing i would have been in and out in 20 minutes, less if I was the only one using the machine. Its a new experience and with better signage implemented I see the Officeworks self-serve photo printing a winner.